Posted by QUICK DAM on 19th Feb 2019
Consistent rain storms over the past few weeks have caused severe flooding in the California area. In addition to the severe flooding California has been faced with widespread mudslides and debris flows. These storms are causing widespread evacuations and are forcing people to have to be rescued from their homes.
Many think that flooding is an isolated disaster that occurs at the rate of a hurricane. That couldn't be further from the truth. Flooding is the most common natural disaster in the United States. Flooding isn't like a hurricane where they primarily occur in one region of the country. Flooding occurs in all 50 states all throughout the calendar year.
The flooding in California has become so severe that it's become quite dangerous for people to be traveling throughout the area. Pictured below a car is completely flooded in Santa Cruz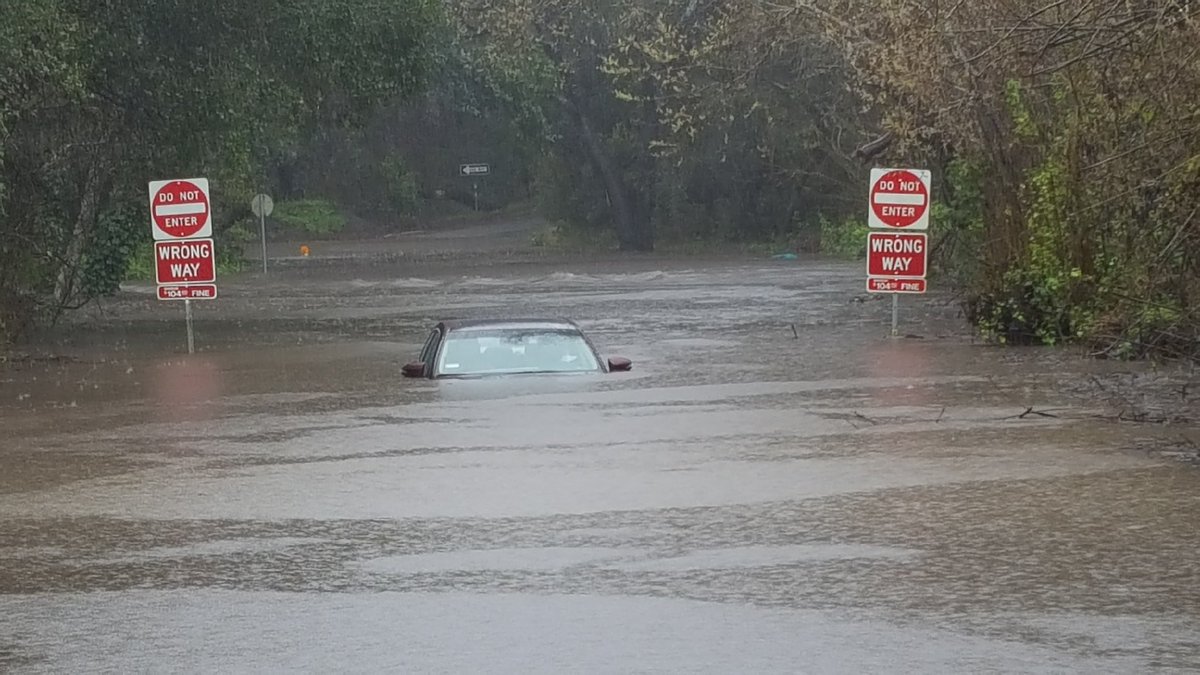 Flooding can occur anytime and any place, so it's important to always be prepared. Having the necessary materials to keep your home or property protected from flooding is the difference between full protection and potentially tens of thousands of dollars in repairs.

Most traditional methods of flood control can be time consuming, labor intensive and financially expensive. A lot of those methods will take up vital space in your home just waiting to be used when the next surprise flood arrives on your doorstep. In order to keep yourself protected it's key to have products that are compact, lightweight and easy to use.

Lucky for you, that's what Quick Dam is all about. Check out the best flood control solutions below.
Flood Bags & Barriers
When dealing with flooding it's important to have quick and effective solutions to better protect your home from serious water damage. Flooding is the most common natural disaster in the United States and can strike at any time. It's important to always have the necessary materials and products on hand to combat potential flooding.

A lot of flood control materials are made so that it's very difficult to stay well stocked and ready for deployment. Luckily, QUICK DAM makes it extremely easy to stay stocked and deploy your flood protection products.
Quick Dam Flood Bags & Flood Barriers are the perfect solution for flooding. Even during the winter time these water-activated alternatives to traditional sandbags are easy to use and extremely effective.
Water Curb
The Water Curb is a barrier that you fill with hose water and place accordingly to block potential flooding. It is compact, lightweight & easy to use. You can store this product empty and then fill it on site as needed. Simply empty the water out when the flood water recede and store away for next time.

Water Curb has dual chambers that when filled prevents rolling out of position. This product is durable and chemical resistant. For salt water needs, this is an easy go-to product that is simple and effective.
This particular product is great for doorways, garages, and more. To learn even more about the Water Curb check it out right HERE or just click on the picture below.
FloodGate
FloodGate is meant for doorway flood protection and will protect from water up to 26in high. The FloodGate stops water in its path and can be used both inside and outside. No alterations are needed and it can be used in doorways that open in or out.

This product protects from any kind of water. The significance behind the FloodGate is that it provides an effective flood solution to those who live near large salt water areas and could experience higher amounts of flooding. Spanning from 30 inches to 50 inches wide, this product can adjust to multiple types of doorways to ensure protection, leaving the doorway accessible by stepping over while in use.

It may look like a big product that will take a daunting process to install but that couldn't be further from the truth. FloodGate is easy to use and installs in just minutes. Once installed, the neoprene sleeve creates a water tight seal around its expandable sturdy frame to protect your doorway.

But wait! There's more! If you're looking for larger doorway solutions the FloodGate has the ability to be connected to multiple units in order to create a larger area of protection.

Check out the FloodGate HERE or click the picture below and start protecting your home today.
Water Gate
For large area water control we recommend using the Water Gate. This product is a portable dam that controls, contains, & diverts water before it becomes a problem to your home or business. By rolling the Water Gate out in the path of problem water it rises and opens from water pressure on contact.

Water Gate is quick and easy to deploy with minimal labor while also being compact & requires minimal storage. This product is flexible and forms to any surface and units are connectable with heavy duty velcro straps The .Water Gate is made from an ultra strong durable fabric that will last for years and replace the need for THOUSANDS of sandbags.

Up against salt water, this product provides protection anywhere from 6 inches all the way to 5 feet high. The Water-Gate has been perfectly engineered that actually uses the water it is filled with to keep in place and rise.

The Water Gate has been both tested and approved by the US Army Corps of Engineers and has shown to fully protect against problem water.
Check out all the different sizing options of the Water Gate HERE and see which one is the best fit for your flood control needs.
Flooding is statistically the most common natural disaster in the United States. Floods occur in all 50 states throughout every month of the year. The best way to stay protected from a year-round threat is to be proactive and focus on early prevention.

Stock up today on effective and easy to use flood products and keep your home protected from the dangers of flooding!